Because so many buildings are being renovated these days such as Villa Magna, Villa Nova, Ocean Terrace, and Townhouses of Highland Beach just to name a few, I thought it might be interesting to do an analysis of the sales prices of condos that have recently been through a major renovation. I chose the Chalfonte of Boca Raton because it went through a complete renovation including concrete work, grounds improvement, and an entire lobby and community room update. All of this work was completed by August of 2013.
Because the units are different sizes, I thought it best to break down the prices by average $ per square foot. Here's how the numbers shake out: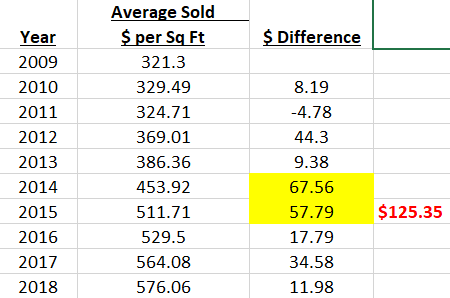 Because the work was done towards the end of 2013, I think it is safe to use the average $ per sq. ft. prices of 2014 and 2015 to conclude that the values of these condos increased by 32% within the first two years of the renovation completion which for a $600,000 condo, that is an increase of $192,000 - something to think about if they are hammering away at your building or you are thinking about buying and want to be certain of an increase in value.*
Of course there usually are assessments levied by the Condo boards to cover the cost of renovations but they are usually much lower than this increase in value and if you are a buyer, they may have already been fully paid by the seller.
We certainly can not guarantee any specific results because buildings will vary, and the real estate market fluctuates from year to year. However, this may be a very good opportunity for a savvy buyer to get in at the right price while the general public tends to shy away from a work in progress!
We have a few listings now that are priced VERY attractively due to the renovations in process. This may be a very good opportunity to get in at the right price. Some of these are private listings with our office only and are not in the MLS.
Call me if you would like to find out more information or if you would like to take a look!
*Results will vary